Parenting Hub
Category

Advice Column, beauty, Lifestyle, Woman
Thanks to advanced formulas, sunless tanning products, also called self-tanners have come a long way over the years, offering a safer alternative to baking in the sun and exposing your skin to harmful UV rays.
With literally hundreds of self-tanning products out there, all claiming to be the best, we know that finding the perfect self-tanner can be a challenge – or so we thought, until the award winning self-tan brand, St Moriz hit our shores.
St Moriz has fast become the go-to-brand for a show-stopping tan and it's easy to see why. Their high salon quality formulations deliver on their promises; an instant, flawless and natural looking tan with a professional finish and long-lasting results – up to seven days!
It's streak free formula, fast drying and easy application makes this tan an absolute winner for anyonelooking for that natural golden glow. St Moriz is both cruelty free and vegan formulated so you don'thave to compromise on your ethics for beauty.
Whether you're a newbie or a frequent self-tanner, St Moriz is suitable for everyone, making your tan goal easily attainable.
Offering easy application, with St Moriz you can achieve a streak-free, salon-worthy tan right in the comfort of your own bathroom, thus avoiding a hefty price that a professional spray tan would cost.
Specially developed with a unique blend of active tanning agents, their salon and dermatologically tested formulations with no nasties are both vegan-friendly and cruelty-free too. All products are lightly fragranced with the unique St Moriz signature scent.
Furthermore, all products are water based so there's no need to worry about getting post self-tan stains on your clothes or bedding as it can be easily washed out.
Offering premium products but at an affordable price, St Moriz is best known for their Fast Tanning Mousse and Golden Glow Moisturiser.
Golden Glow Tanning Moisturiser (RSP R149.95)
If you're looking for a soft and natural glow, then this product is perfect for you. Apply daily to gradually build a bronzed golden tan. Specially formulated with Aloe Vera and Vitamin E to leave your skin feeling soft, hydrated and looking beautiful!
Fast Tanning Mousse (RSP R149.95)
Ideal for those who are short on time and wanting a quick fix tan, this mousse goes to work instantly. Infused with vitamin E and olive milk, this fast tan mouse makes it easy for you to achieve the tan you desire in much less time and dries within 15 minutes. With a smart tanning complex, you can control your shade too. Achieve a light, sun-kissed glow in just one hour, a medium tan in two hours or a beautiful bronzed glow tan in three hours.
Tan Applicator Mitt (RSP R99.95)
To help ensure that your hands don't get stained and to achieve a streak free, flawless application, the tan applicator mitt should be used when applying any of the St Moriz tanning products.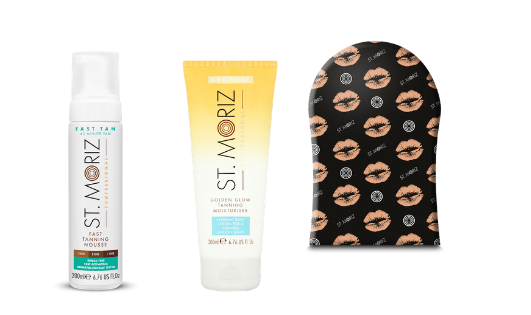 Top tip: The secret to ensuring your tan lasts longer is exfoliating before you apply your self-tanner. Removing all the dead skin will allow your tan to develop better and last longer. Once your tan has developed and you have showered, moisturise every day with an oil free moisturiser.
Available exclusively at Clicks stores.Facebook: St. Moriz South Africa
Instagram: @stmoriz_southafrica