Parenting Hub
Category

Advice Column, beauty, Lifestyle, Woman
Moisture is the key to healthy, shiny and luscious hair and with the new Sunflower Range from The Perfect Hair, it has never been easier to give your locks all the love they deserve. Made from locally sourced quality sunflower oil, blended with bases of coconut and castor oil, this new range is rich in vitamin E and focuses on nourishing, treating and uplifting your hair.
With four new products that range from a leave-in treatment to an oil spray, The Perfect Hair knows exactly which oils are vital in treating and styling your curls therefore ensuring that your hair will be Soft 'n Smooth from root to tip. So whether you are all-natural afro styling, transitioning, in a protective style, or treating your scalp and hair while in a wig or weave, the Sunflower range has what you need: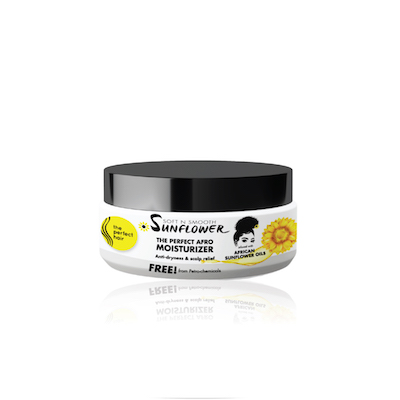 The Sunflower Moisturizer (R69.99):
Natural coconut and castor oils soothe dry hair and scalp daily, locking in moisture that leaves hair frizz-free, softer and manageable.
How to use: Use daily before styling for a big moisture boost. Using your fingers, apply to wet or damp hair evenly from root to tip to soften hair before styling. Complete your style with the Afro Sheen Spray for high shine and healthy looking hair.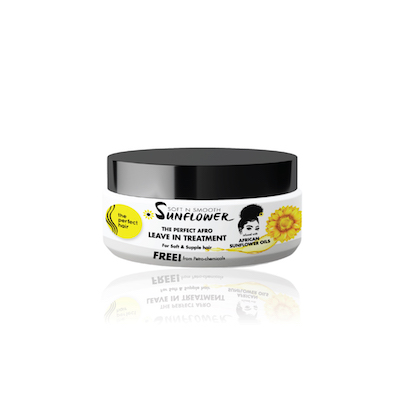 The Sunflower Leave-in Treatment (R69.99):
Natural sunflower , coconut and castor oils penetrate the hair to soften, strengthen and repair. A mild and effective treatment product to use on curly and coily Afro hair types. To treat dry, damaged or dyed hair.
How to use: Apply generously to clean, wet hair, leave on overnight to boost hair health. Or simply allow to soak into wet clean hair for 20 minutes. Rinse thoroughly then apply Afro Moisturizer to style and Afro Oil Sheen Spray to seal in all the goodness. Use weekly for best results.
The Sunflower Oil Spray (R79.99):
Infused with quality sunflower, coconut and castor oils to give your hair and skin a natural shine boost!
How to use: Spray oil generously into wet hair & scalp. Massage with fingers or a wide tooth comb distributing product evenly. For best results, use the oil spray after using The Perfect Afro Moisturiser or Leave-In Treatment to seal in all the goodness. You can also apply to wet skin for a radiant & moisturised glow
The Braid Spray (R59.99):
Natural Aloe & coconut water provide nourishment to hair and scalp. Restore moisture to soften and moisturize hair & scalp in braids, twists, dreads or weaves. Use every day with zero product build-up.
How to use: To prevent dryness, itch and odour, spray directly onto scalp and braids, locks or weaves as often as needed to refresh and moisturize. For best results, use daily with the Afro Oil Sheen Spray, for moisture and shine.