Parenting Hub
Category

Advice Column, Favourite Things, Health, Lifestyle, Parenting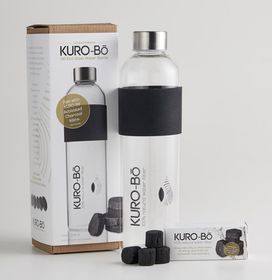 Zero-waste and plastic free… this is the life that many are trying to achieve in 2019. The KURO-Bō natural water filter system is a must purchase this year. 
Starting from the glass bottle to the unique filter system this product is 100% easy and 100% convenient! 
The bottles retail from R260 for a 1 litre bottle. Once you have your bottle which features a bamboo lid and removable sleeve, you will need to grab some KURO-Bō detoxing Activated charcoal Kōins. 
The process works by means of you boiling the KURO-Bō tablets for 10 minutes. You simply add the charcoal tablet to your tap water and place it in the fridge in your stylish bottle for an hour or two for the magic to start. 
The KURO-Bō charcoal Kōins purify, mineralise and ph balance your water while you are active on the move. They absorb toxins, bacteria and are enriched with minerals such as calcium and magnesium! 
For more information visit www.kuro-bo.com or visit good independent health store country wide to get your own. They are also available from Wellness Warehouse, selected Spar outlets, Dis-Chem and @Home Stores. Purchase online from Faithful-to-Nature and Takealot