Parenting Hub
Category

Advice Column, beauty, Lifestyle, Woman
Platinum, silver, strawberry and honey blonde have been ruled the hottest hair colours of Winter 2021, as big names like Selena Gomez, Maisie Williams and Lucy Hale all ditched their trademark brunette styles for shades of blonde. While we're used to seeing warm auburns, chocolate and chestnut browns dominate the winter months, this year is proving to look a little different.
Going from brunette to blonde is a major transformation, and one that should not be undertaken without caution. Going lighter means your hair will require a lot more maintenance and some realTLC to ensure it doesn't become brittle or break. If your hair is very dark, your colourist might suggest going lighter in stages to minimise the risk of damage. This could mean starting off with highlights, balayage or ombré colour before going fully blonde.
Getting your brunette hair blonde will inevitably require some form of bleach or colour stripping, so it is advisable to have the colouring process done by a professional, and not to attempt it at home. Not only will a home dye increase your risk of brassiness, but it also significantly increases the risk of damaging your hair, which could lead to severe dehydration and breakage.
Maintaining your new blonde colour and keeping your hair in tip top condition will require a littlemore dedication and time, but the results will be worth it. Here's how to preserve your new colour and protect the health of your hair.
Use as little heat as possible
Avoid heat styling as much as possible, or if you can, turn down the heat on your styling tools so that they work at a lower temperature. All hair is susceptible to heat damage, but coloured hair (particularly hair that has been lightened) carries extra risk. Make sure to use a heat protectant spray every time you blow-dry or style your hair. If you cannot wash your hair without blow-drying it afterwards, try to wait an extra day between washes. A good quality dry shampoo like COLAB Dry Shampoo (R89.99) absorbs excess oil and odours, leaving your hair looking and feeling fresh, without any white residue.
Invest in blonde shampoo and conditioner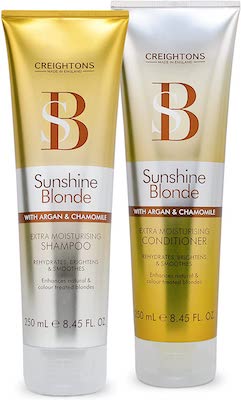 Blonde hair has unique needs, so to ensure your hair gets all the care it requires, opt for shampoo and conditioner designed specifically for blonde hair. Creightons Sunshine Blonde Extra Moisturising Shampoo (R99.95) and Conditioner (R99.95) contain pro-vitamin B5 and sunscreens to help protect your hair and enhance your colour.
Make time for deep conditioners and hair masks regularly
Your hair will need more hydration than usual, so stock up on hydrating deep conditioners and hairmasks and be sure to use them at least once a week to boost your hair's moisture levels and keep itlooking and feeling healthy.
OGX Coconut Miracle Oil Hair Mask Extra Strength (R209.99) is an ultra-nourishing blend of coconut oil, vanilla bean extract and essence of Tiare. It is perfect for reviving dehydrated hair that requires restoration. Marc Anthony Argan Oil Deep Hydrating Conditioning Treatment (R71.99) is a restorative sulfate free weekly conditioning treatment. It contains argan oil, keratin and grape seed oil to combat damage, breakage, split ends, dryness, dullness and frizz, and leave hair with added strength.
Try a purple shampoo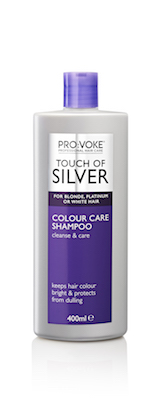 Purple shampoo does more than keep blonde hair healthy, it also prevents the dreaded brassiness. Ifyou're looking to maintain the tone of your colour, a purple shampoo is a must. Provoke Touch of Silver Brightening Shampoo (R120.00) and Conditioner contains violet pigment to actively neutralise brassy, yellow tones and treat colour fading and dullness for instant, visible results. This toning treatment shampoo brightens coloured, natural or highlighted platinum, blonde, white and grey hair, resulting in vibrant, dazzling shine.
For best results, use with Provoke Touch of Silver Intensive Conditioner (R120.00). It contains restorative proteins which intensively target dry, damaged and coloured hair, leaving it feeling smooth and moisturised.
Sleep on silk
If you think silk pillowcases are just hype, think again! Silk allows your hair to gently slip and slide across the fabric while you sleep instead of it stretching or pulling like it does on other fabrics like cotton. Less friction, means less damage. Cotton is more porous than silk, and absorbs moisturefrom your hair, whereas silk won't absorb any of your hair's precious moisture. All-in-all it's a greatchoice for coloured hair (and has major skincare benefits too!).
Nourish with hair oil
Apply a strengthening hair oil after every shampoo and conditioner to help protect your hair. OGX Anti-Breakage Keratin Oil (R174.99) has rich, fortifying keratin proteins to help protect and strengthen your hair. This helps it to resist unnecessary breakage caused by brushing. Hydrating argan oil also helps to condition your hair, leaving it soft and with a brilliant shine. You can also try Marc Anthony Grow Long Anti-Break Oil Caffeine & Ginseng (R194.99). It's a light-weight oil that provides a strengthening hydration boost for fragile strands to help reduce breakage and promote frizz-free hair with shine.