Prima Baby
Category

Toddler, Toy Box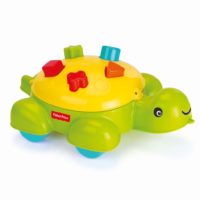 Fisher-Price has been a trusted name in child products and toys in America since the 1930's.
One of the world's leading and most established manufacturers of quality products, the company has just released a baby product line which not only provide moms with a sense of surety of quality, but also a sense of nostalgia for the brand that most of they themselves were raised on.
One of the key elements to the Fisher-Price toy range for babies is the lines' awareness and proactivity in the developmental field – the concept of not only entertaining, but also educating and stimulating little growing minds.
Items such as the Turtle Shaped Sorter brings young imaginations to life in the form of a friendly character, with shapes to fit inside his shell.  Watch baby connect the puzzle pieces as they fit the back shapes inside the shell and start to develop the sense of shape and hand-eye coordination, identify different sizes and set patterns and encourage logical thinking abilities.
With stimulating primary green and red colours, the turtle is an all-round fantastic addition to any little ones' toy box.
Grab a Fisher-Price turtle shaped sorter instore now at Hamleys Toy stores, selected Kids Emporium stores, www.takealot.com, www.loot.co.za, ww.purplepepperz.com, www.thebabyzone.co.za