Parenting Hub
Category

Advice Column, Fertility, Health, Lifestyle, Parenting
The Salome range, launched in 2020 by South African pharmaceutical company 3Sixty Biomedicine, addresses common women's health issues. The current product range offering over the counter treatment options is based on herbal extracts to help manage heavy menstrual bleeding, menstrual pain, Polycystic Ovary Syndrome (PCOS) and infertility linked to PCOS. Later in 2021 the range is looking to expand its offering to include capsules that treat the symptoms commonly associated with menopause.
Even prior to the presence of COVID-19, there was a growing trend by consumers to explore more organic alternatives to synthetic medical treatments. Now it's become more important than ever for consumers to know what they're putting into their bodies, which has been the driving force over the past two years for 3Sixty Biomedicine's product development of the Salome range.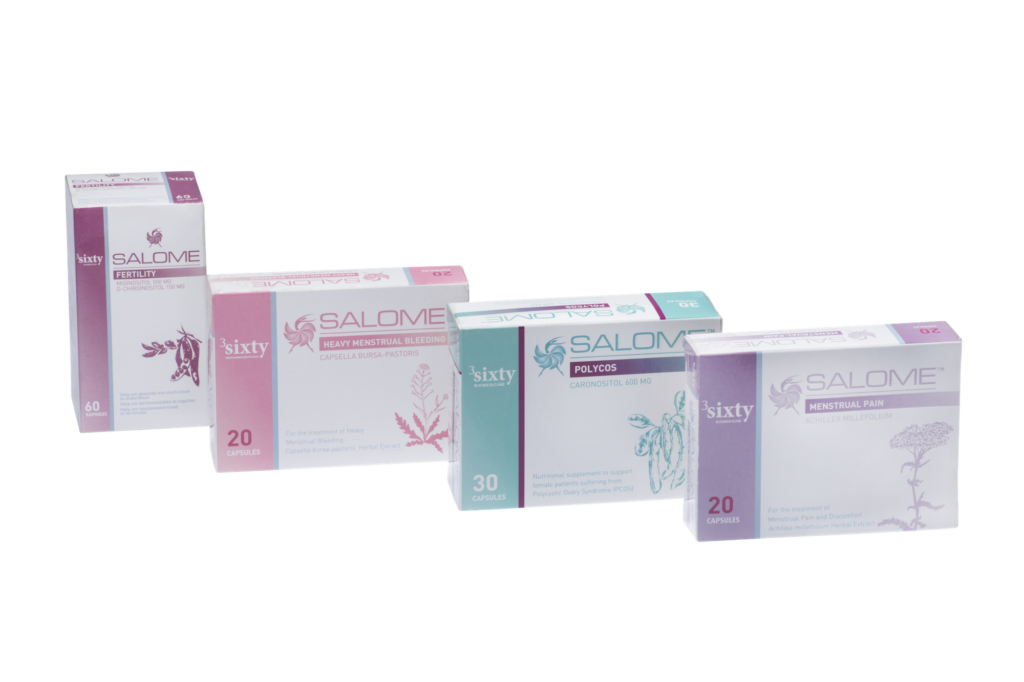 Salome Polycos assists with the management of symptoms commonly associated with PCOS by helping to decrease testosterone levels as well as blood pressure levels. It also plays a role in increasing insulin activity in women diagnosed with PCOS, as many suffer from insulin resistance. Due to these hormonal imbalances women living with PCOS often battle with acne, irregular periods, male pattern hair loss or experience excessive body hair growth (hirsutism). Salome Polycos's main active ingredient is D-chiro-inositol (DCI) which is a natural extract obtained from the carob tree.
In cases where infertility can be linked back to the hormonal imbalances caused by PCOS, patients who make use of products like Salome Fertility that contain Myo-inositol and D-
Chiro-inositol have seen an increase in their ovulation, a reduction in their hyperandrogenism and in the oxidative stress in their follicular fluid. The efficacy of the product lies in it containing the correct ratio of Myo-inositol and D-Chiro-inositol that have been extracted from the pod of the Carob bean tree. Case studies have shown that these natural extracts are instrumental in helping manage the regulation of ovarian function in PCOS patients.
Dysmenorrhea, the technical term for extreme period pain, is also a common women's health issue that impacts up to 20% of women with their menstrual cramping being severe enough to interfere with daily activities, according to the American Academy of Family Physicians. Salome Menstrual Pain is based on herbal extracts of yarrow (Achillea millefolium) which has antispasmodic, anti-inflammatory & analgesic effects, which may provide relief for spasm associated with menstrual periods known as dysmenorrhoea. What is great about Salome Menstrual Pain is because it contains natural ingredients, females from as young as 13 years old who suffer from menstrual pain can use it to manage painful menstrual cramping without worrying about unwanted side-effects.
Another common problem experienced by women is menorrhagia (abnormally heavy flow and prolonged bleeding). 3Sixty Biomedicine created their Salome HMB product to help alleviate this problem. The product also draws on herbal extracts from Capsella Bursa-Pastoris, a medicinal plant also sometimes known as Shepherd's purse, as an active ingredient to assist with the reduction of heavy menstrual bleeding in women with regular menstrual cycles. The medicinal benefits of this plant have been scientifically proven to have smooth muscle stimulant effects. As an added bonus Capsella has antioxidant features that improve uterine tone, meaning that it will facilitate the regulation of menstrual blood flow. It also has anti-inflammatory properties that can have a positive impact on the management of heavy menstrual bleeding (HMB).
The full Salome range is available online at Takealot.com and www.3Sixtybiomedicine.co.za, as well as at most pharmacies nationwide and you can even ask for the range from your Clicks pharmacist.
Read more about this exciting female health range at https://3sixtybiomedicine.co.za/salome/ and then enter our competition for a chance to win a stylish Salome Hamper consisting of a custom designed Lou Harvey cosmetic bag, Salome Menstrual Pain and Salome Heavy Menstrual Bleeding packs. We believe #yourjourneymatters, so don't let anything get in your way with the help of the Salome range!